Piano Movers Extraordinaire Blog
When it comes time to part with your piano, you have a few options. While your first instinct may be to donate or sell, these options can often cause more harm and hassle than good. Many aren't aware that when their donate their piano, it often ends up as a burden on the institution they've donated it to. In fact, institutions become populated with so many inappropriate instruments they themselves need to hire professionals to have them taken away; costing them money. Why? Many of the pianos they receive are actually in disrepair and unplayable.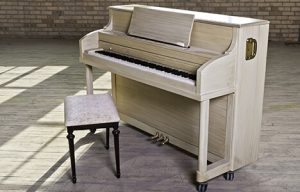 Pianos make their way into the purgatory of institutional use in several ways, whether through donation or buying a piano online. Avoid adding to this problem and simply invest in proper piano disposal. At Piano Movers Extraordinaire we offer piano disposal for Anoka County and the surrounding areas and we would like to tell you more about it, its benefits as well as what you can expect from this service.

When cared for properly, pianos will last for decades. However, when a piano begins to show wear on the outside or the moving parts inside no longer work properly, repair is usually the first recommendation. A piano technician can fix the inside of the piano while a furniture refinisher can restore the outside. We even have some recommendations for piano restorers and refinishers in the area.

But, for many pianos, it is simply not cost effective to restore them. At some point, the piano no longer becomes worth spending the money to restore. When this is the case, then it is ready for disposal. If you determine your piano unable to be or too expensive to be repaired, this is where we come in. We can help with the disposal of old or broken piano.

As you know, you can't just throw the piano out on the curb for the garbage service to pick up. Pianos require special disposal and we are here to provide this very service. So, before you end up adding your piano to piano purgatory, give us a call and we can take it away to piano heaven; properly disposed of in the correct facility.

If you, unfortunately must part with your piano, give us a call for proper piano disposal in Anoka County. Contact the experts at Piano Movers Extraordinaire by calling us at 763-784-8123 or contact us for a Free Estimate.